Horton Crossbows & Crossbow Accessories for Hunting
For years, hunters have preferred the use of crossbows over firearms and rifles. These old-fashioned weapons have been used around the world for centuries. However, they have undergone tremendous changes in design in recent years to become the modern marvels used today. Horton Crossbows are some of the finest crossbows you can find on the market today. They utilize innovative technology and are renowned for their remarkable precision and light weight.
If you are looking for an easy-to-use weapon that is lightweight and will not tire you out, Horton crossbows are the answer. With many models and styles available, they offer a variety of designs and sizes so that you can choose model that suits you the best. At The Hunting and Fishing Connection, we bring you the entire range of Horton crossbows at affordable prices. Browse our complete selection of Horton crossbows below to find the model that is best for you.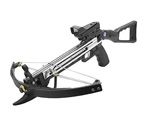 Types of Horton Crossbows
There are several kinds of Horton crossbows that are quite popular. Here is a look at just a few of the models that we have in stock:
Horton Fury: This 2012 model is said to bring the best of crossbow technology available today. The Reverse Draw Technology, found exclusively in Horton crossbows, makes this a compact and accurate piece of equipment. Made from aluminum, it is very balanced and lightweight.
Horton Havoc: Another impressive 2012 model is the Havoc from Horton crossbows. It is compact and quiet, but packs an impressive punch. This perfect blend of performance and innovation gives you the freedom to use a number of shooting positions. It also comes with an anti-dry fire safety mechanism built in.
Horton Team Realtree Ultra-light Express: This product weighs only 6.5 lbs. and is one of the best ultra-light crossbows available in the country. The efficient design and asymmetric shape is typical of most Horton crossbows. It has custom fitted recoil pad, integrated stumpers, and is ideal for those seeking comfort, stealth, and speed.
Horton Bone Collector: For the pinnacle blend of accuracy, speed, performance, and sleek design, this is what you have been looking for. This model is the fastest in the collection, but it is also super-durable. With its bullpup trigger and ergonomic thumbhole, you are sure to fill your trophy room in no time.
Horton Brotherhood: For the more advanced hunter, Horton crossbows brings advanced technology in the Brotherhood. With an ergonomic design, balanced as well as rugged, this model will outperform many other crossbows that you find. It also comes with user-friendly settings that will appeal to novices as well. With vibration damping technology and an ergonomic thumbhole, it is very comfortable to use.
Horton Legacy CS 225: If you prefer a classic feel merged with modern performance, the Legacy is perfect for you. It has high-tech features but offers a classic form. This low-maintenance crossbow is a testament to the designs that this brand offers. It gives you a smooth shooting experience with pinpoint accuracy for unrivaled performance.
Horton Scout 125: This compact design is easy-to-use and is very popular with younger hunters. It carries features found in some of the most advanced bows, but in a scaled-down design. This is great for a beginner and can really help new hunters get into the art of the sport.
Selecting the Best of Horton Crossbows
When browsing through Horton crossbows, keep in mind that not every bow is compatible with every hunter. Before making a purchase, consider the following points:
Try to find a bow that is ideal for the game you are hunting. Though most crossbows are powerful enough for all types of game, precision and weight are important factors to consider as well.
Your height and overall frame size also plays a big role in which crossbow you should chose. Smaller hunters will be more comfortable shooting a smaller size bow.
Weight is an important factor, especially if you are going to be out in the woods for quite a while.
Comfort is a major point to be noted. Ergonomic features and designs will keep you comfortable even on long hunting trips.
Choose Horton Crossbows for the Ultimate Experience
To this day, Horton crossbows are considered at the top of the game. There are bows for every level of experience and every type of hunter. With expert designs and features that bring together comfort and performance, Horton crossbows among the best that you will find on the market today.