Crossbow Scopes: Buy Discount Scopes & Optics for Crossbows
At The Hunting and Fishing Connection, we carry a wide variety of crossbow scopes for your crossbow. Our large selection of different types of crossbow scopes ranges from red dot scopes to those that have different types of reticules for specialized use.
Whether you are looking for a specific type of crossbow scope, or you are just trying to find the best deals out there, look no further than The Hunting and Fishing Connection. We carry many different crossbow scopes to fit your favorite crossbow including the mounts and accessories you need to give you the advantage you want. We also carry a wide range of crossbows and compound bows. With this selection, we have everything you need for your next hunting trip, whether you are a pro or just casually enjoy the thrill of the hunt.
Choosing the Best Crossbow Scope
As a leading hunting, camping, and fishing store, The Hunting and Fishing Connection carries many top brand names and popular styles of crossbow scopes, crossbows, and crossbow hunting accessories. This includes everything from top quality Tenpoint Crossbows to Red Dot and reticle scopes for crossbow shooting. With our wide selection of products available online, you will surely find what you need to give yourself the advantage.
What Is The Difference Between a Reticle And Red Dot Crossbow Scope?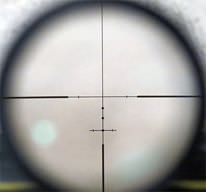 A reticle crossbow scope uses what is known as a reticle, which has different points on the crosshairs to increase accuracy and to determine the distance of your target. When it comes to reticle crossbow scopes, there are several different types and varieties of these available. These include:
Original Plain Crosshairs
Duplex or Plex Crosshair
Mil Dot Reticle Crosshair
Redfield Range Finding Scope Reticle
Bushnell DOA Crossbow Scope Reticle
To get a feel for what it is like looking through a reticle scope, take a look at the picture below.
A Red Dot Crossbow Scope on the other hand uses a laser dot as you look through the scope to help pinpoint your target. The red dot from the laser can be calibrated to the scope reticle so that wherever the red dot is, the crossbow bolt will hit the target.
Both of these crossbow scopes are accurate, and for many hunters it comes down to personal preference when deciding on which scope to use.
Shop Our Selection of Discount Crossbow Scopes Online
The Hunting and Fishing Connection is your number one online store for all your hunting and fishing supplies and needs. We carry some of the top name brands in hunting and fishing gear with products ranging from tents and flashlights to crossbows, crossbow bolts, and crossbow scopes of all types. To learn more about the type of products and discount crossbow scopes and accessories we have for sale, browse our complete selection of products in our online store today.