Barnett Crossbows - Jackal: A Leading Crossbow for Precision & Speed
If there is one thing that all hunters hate, it is the thought of missing a shot due to poor equipment. Therefore, it is important to ensure that you purchase high quality equipment that can stand up to your rugged lifestyle. With Barnett Crossbows Jackal, you can rest assured that your crossbow will deliver precision and speed on every hunting trip. This crossbow is an excellent choice for any hunter ranging from the beginner to the experienced individual. Promising excellent precision and speed, Barnett Crossbows Jackal Crossbow ensures you never miss you prey because of inaccuracies in your bow.
This hunting equipment has been designed by very best hunters at the Barnett Outdoors Company. It is ideal for both amateur and pro hunters. Barnett Crossbows Jackal is one of the lightest crossbows available in the market today and this is one of the primary reasons why people prefer it. Additionally, Barnett Crossbows Jackal Crossbow is also one of the safest hunting crossbows available.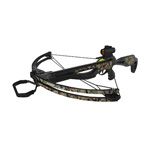 Barnett Crossbow Jackal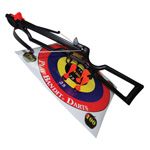 All Barnett Crossbows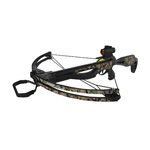 All Barnett Crossbow Packages
Features of Barnett Crossbows Jackal Crossbow
Barnett Crossbows Jackal Crossbow is extremely affordable, yet it packs a whole lot of features. Because it is an affordable crossbow with the features of a premium hunting crossbow, this crossbow is perfect for novices and experienced hunters alike. It shoots arrows at a whopping speed of 315 feet per second making sure that your target has no time to react. And with the mass weight of just 7.7 lbs, you will never get tired from carrying Barnett Crossbows Jackal around.
Some of the primary features of Barnett Crossbows Jackal Crossbows include:
Arrow length/grain: 20"/400
width:28.250"
Length: 36"
Draw weight: 150 lbs
Power stroke: 12"
Energy (foot pounds): 91
The Barnett Crossbows Jackal Crossbow Package comes with a quiver, 3 arrows, and premium red dot sight. This is the perfect solution for beginners who are unfamiliar with the different types of equipment available and those who are on a tight budget.
Accuracy and Safety Features of Barnett Crossbows Jackal Crossbow
Like most Barnett Crossbows (LINK to Barnett crossbows), the Barnett Jackal Crossbow comes with a wide variety of features. For example, the detachable premium red sight ensures that you point to your target accurately and never miss it. You can also purchase an optional cocking device to make the hunting effortless. Barnett Crossbows Jackal is extremely easy to set up and can be done within a matter of minutes.
Barnett Crossbows Jackal is also compatible with long range scopes so that you can track and aim at your prey from a long distance. This lightweight bow also has virtually no recoil allowing you to comfortably rest your face against its stock. Therefore, the affordable Barnett Crossbows Jackal is not only durable but also performs to the standards of the best professional crossbows available.
The Barnett Crossbows Jackal also has a variety of safety and secondary safety features. For example, it only releases an arrow if its bolt is loaded. This means you are well guarded against any accidental release, keeping you safe and protecting your bow from the damages of dry firing.
Why Choose Barnett Crossbows Jackal Crossbow
Barnett Outdoors Company is known for its high quality crossbows and crossbow accessories. These crossbows will deliver excellent performance for years to come. The company also offers an unmatched five-year limited warranty on the purchase. It covers major parts such as limb assembly, stock, and trigger mechanism.
To buy a Barnett Jackal Crossbow or to learn more about this product, shop our affordably priced Jackal crossbows above or see our complete selection of Barnett Crossbows.